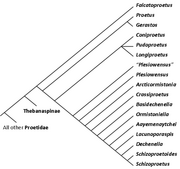 Aayemenaytcheia
is a genus of proetid trilobite.
[1]
[2]
References
Edit
↑

B. S. Lieberman. 1994. Evolution of the trilobite subfamily Proetinae Salter, 1864, and the origin, diversification, evolutionary affinity, and extinction of the Middle Devonian proetid fauna of eastern North America. Bulletin of the American Museum of Natural History 223:1-176
Ad blocker interference detected!
Wikia is a free-to-use site that makes money from advertising. We have a modified experience for viewers using ad blockers

Wikia is not accessible if you've made further modifications. Remove the custom ad blocker rule(s) and the page will load as expected.